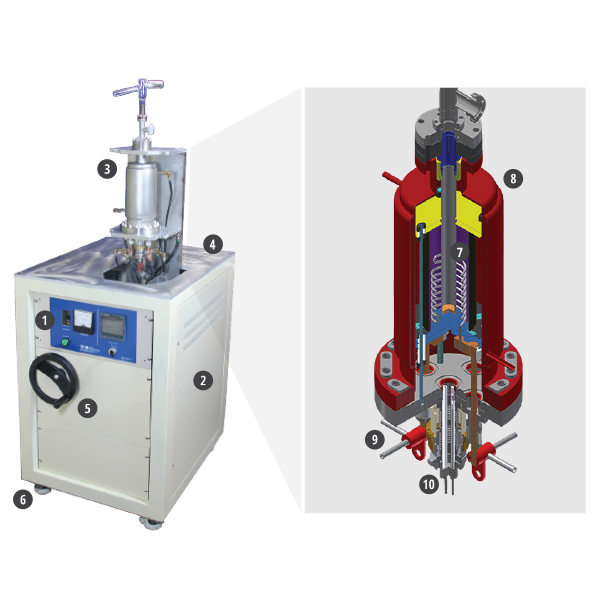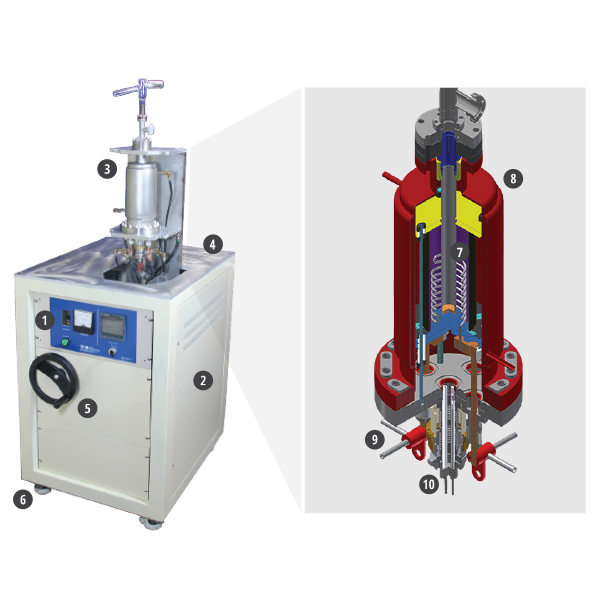 Based on Pond Engineering's extensively proven Model TC-9 Furnace and TC-22 Controller, the Model TC-65 is a self-contained furnace and controller in one. Designed in conjunction with Thermo Fisher Scientific, this furnace can be seamlessly integrated into existing noble gas prep and analysis setups. The furnace is mounted in a cabinet similar in size to the Thermo Fisher "1-bay" bench. An array of M6 tapped holes on a 25mm grid covering the rear section of the benchtop provides a location where valves, controls, and/or a secondary sample source can be mounted.
An intuitive furnace controller is located on the front of the cabinet. With this controller, the user can easily configure the setpoint, establish an alarm temperature, and read the current furnace temperature. The controller is also equipped with RS-232 communication ability, allowing the furnace to be integrated into an automated sample handling system.
To facilitate servicing and maintenance, the furnace is mounted to a movable spine. Using a hand wheel below the furnace controls, the user can raise the furnace to above the benchtop (see photo on reverse), positioning the furnace for easy access to service points.
The furnace is suitable for long-term operation at temperatures up to 1600°C and is capable of reaching 1800°C. It consists of a Niobium crucible surrounded by a formed Tungsten heating element. Radiative heat loss to the water-cooled jacket is minimized by a series of Molybdenum heat shields surrounding both the crucible and the heating element. Molybdenum crucible liners are available as a consumable and greatly extends the usable life of the crucible itself. A secondary vacuum (not included in base model) is required for furnace operation.
The TC-65+ includes the following additional features:
• Integrated secondary vacuum pump and controller
• Secondary vacuum level safety cutout
• Cooling water flow safety cutout
• Cooling water temperature safety cutout
SPECIFICATIONS
KEY FEATURES
System Setpoint Range
Up to 1800°C
Temperature Control Sensor
Type C thermocouple
Setpoint Resolution
1°C
Setpoint Accuracy
Better than 1%
Power Requirements
240 Volts
20 Amps max.
A.C. 50/60 Hz.
Power Consumption
≈4.8 kW transient
≈3.6 kW steady state max.
Cooling Water Requirements
≥6 LPM below 25°C
Min. 8.25 psig (57 kPa)
Cabinet Physical Dimensions
25" (64 cm) wide
30" (76 cm) deep
48" (122 cm) high
67" (170 cm) high in servicing position

| | |
| --- | --- |
| 1. | Intuitive furnace controller with built-in alarm for high-temperature cutout |
| 2. | Durable powder-coated cabinet |
| 3. | Furnace can be elevated above the cabinet for servicing and maintenance |
| 4. | Array of holes (M6 on a 25 mm grid) idea for mounting valves and/or secondar sample source |
| 5. | 8" hand wheel allows furnace to be elevated with minimal effort |
| 6. | Casters with integrated rubber feet allow the user to position and then immobilize the cabinet for easy operation |
| 7. | Cylindrical Molybdenum shields (two above and two below) minimize heat loss to the water-cooled jacket, increasing furnace efficiency and minimizing cooling load |
| 8. | Water-cooled outer jacket keeps exposed surfaces cool, minimizing risk of operator injury |
| 9. | Cooling water supplied to heater power connections maintains vacuum feed-thrus at a safe operating temperature |
| 10. | Fine pitch thermocouple position adjustment allows for ideal placement of thermocouple and more accurate temperature control |